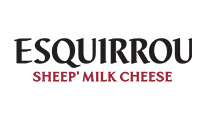 Esquirrou P.D.O. Ossau Iraty
Ossau Iraty is a well-known cheese from the "Pays Basque", region bordering France and Spain. Esquirrou dedicate their craftsmanship toward making this delicious ewe's milk cheese. This small Ossau Iraty is a PDO cheese following ancestral traditions and strict rules to allow its seal of quality, perfection and its appellation.
Esquirrou's Ossau Iraty received worldwide recognition in 2018 when it was awarded World Best Cheese at the World Championship Cheese Contest, held in Madison, WI – it bested a record-breaking 3,402 entries, in 121 categories from 26 countries.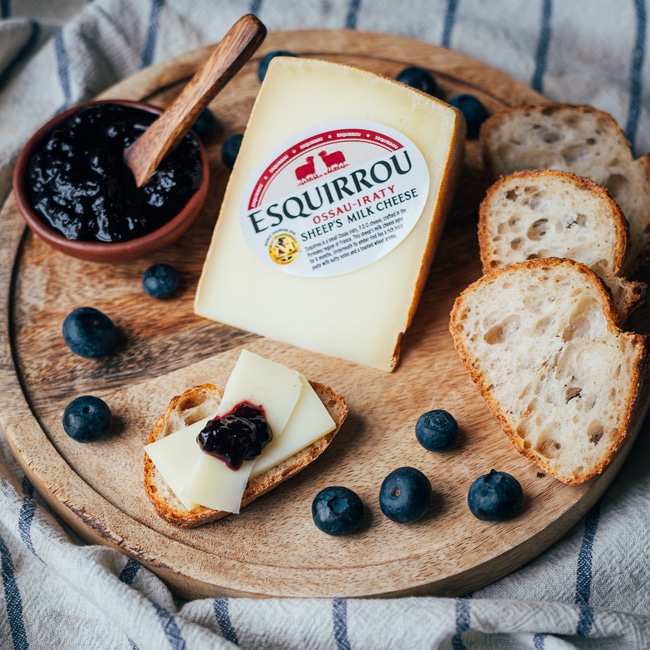 Ossau Iraty Esquirrou; matured and rubbed for 6 months
Hard, pressed ewe's cheese are the most common type of cheese in the Pyrenées, and among those, Ossau Iraty has become one of the best-known cheeses thanks to its tantalizing taste, resulting from thorough rubbing, and its creamy texture for a hard cheese.
Ossau Iraty is made with whole ewe's milk and is aged for at least six months. During this time, it is regularly rubbed and turned around, while its paste is pressed. This process allows it to develop mouth-watering nutty notes. It is taste-tested throughout the whole process so it is only released for retail sale when it has reached complete maturity.
The cheese has an amber rind, under which you'll find a rich ivory paste, with nutty notes and the aroma of toasted wheat. You can tell it's an Esquirrou cheese by the stamps laid beautifully on the rind of the wheel.
This recipe has been perfected during a hundred years of cheesemaking history in the Pays Basque. Ossau Iraty, despite being a hard cheese, retains a characteristic creaminess that has conquered the palates of cheese lovers all over the world.
Pairings to go with Ossau Iraty
This wonderful cheese can be appreciated by itself as well as with some crackers. You can also complement its round flavors with some sour tastes, such as cherry jam and whole bread, and a dry white wine.