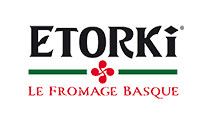 Etorki Réserve
The aged French Basque Country Pride
One slice of Etorki Reserve packs in nutty, mild creaminess, recalling 4,000 years of cheesemaking in Basque country. Take a bite and become a part of this beautiful history.
A true tradition and heritage
Hailing from the exquisite Basque region of the mountainous Pyrénées, Etorki Reserve has followed a cheese-making tradition that has survived for four millennia. Pulp-pressed and uncooked, this sheep's milk cheese is aged for three months, resulting in a velvety smooth interior that's simultaneously supple and firm.
A rare process for a better taste
For each decadent wheel, artisan cheesemakers use six gallons of milk from black- and red-faced Manech sheep. Its butterscotch-colored rind is textured like honeycomb, a coarseness that develops from the molds during pressing. This cheese has an earthy aroma and mild caramel afternotes that pair beautifully with a sweet white wine.
Ingredients
PASTEURIZED SHEEP'S MILK, CHEESE CULTURES, SALT, ANIMAL RENNET, EGG WHITE LYSOZYME (PRESERVATIVE), NATAMYCIN (RIND PRESERVATIVE).   CONTAINS:  SHEEP'S MILK, EGG.