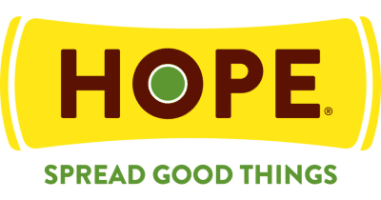 Hope Foods
Hope foods started over 10 years ago with a unique organic hummus at the local Farmers Market in Boulder, Colorado. Since then, they continuously created new distinctive and flavorful recipes to offer the most uplifting eating experience by using fresh, clean, 100% plant-based ingredients that are good for the body and the planet​.
Always a fresh taste
Hope uses cold-pressure to retain fresh flavors, keep a made-at-home texture, and provide optimal nutrition and safety without the use of artificial preservatives.
Hope's Hummus and Plant-Based Dips
With Hope, you can choose savory, spicy, and sweet dips to elevate your eating experience at anytime of the day.
Is a creative blend of organic garbanzo beans, organic sesame tahini and 100% Extra Virgin Olive Oil. With its variety of organic spices, it creates an amazing balance of flavor and zest.
Is made with 100% Extra Virgin Olive Oil, course ground sea salt, organic chickpeas, and a hint of rosemary to create a delicious, satisfying new take on our organic hummus recipe.
Is a 100% plant-based small-batch crafted with cashews and almonds to create a cheesy, sour cream-like taste and texture, fresh spinach, fire-roasted artichokes, and our chef-crafted spice blend all unite to create a delicious, re-invention on one of America's favorite dips.
Is a 100% plant-based blend of small batch cocoa, creamy cashews and delicious almonds. Along with lower sugar and less processing than most of those other chocolate spreads out there, this is a marriage made in heaven.
Hope's cooking tips
Discover Hope's recipes and tips for cooking with Hope hummus and dips here: