January 27, 2023
Black Olive & Tomato Tian with Chavrie Goat Cheese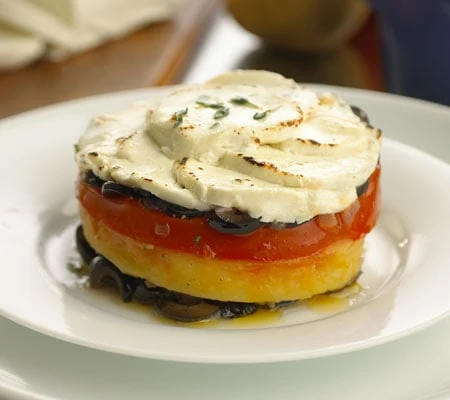 Ingredients
1 C Quality olive oil

½ C minced onions

½ tsp. Garlic cloves, minced

2 Tbsp. Sliced black olives drained

¼ tsp. Chopped thyme

1 ea. potato, peeled

1 ea. Beef steak tomatoes

1 tsp. Kosher salt

½ tsp freshly ground black pepper

45 min

4

medium
Recipe
Preheat the oven to 375°F.

Brush a small 3-4 inch casserole dish with olive oil.

In a medium sauté pan, heat 1 tablespoon of olive oil and cook the onions over medium-low heat for 8 to 10 minutes, until translucent.

Add the garlic and cook for another minute.

Add the olives and chopped thyme.

Spread the onion mixture on the bottom of the baking dish.

Slice the potato and tomatoes in 1/4-inch thick slices.

Layer them alternately in the dish on top of the onions.

Drizzle with 1 more tablespoon of olive oil.

Slice the Chavrie® Goat Log in ¼ inch slices and place in shingle fashion on the top for the finishing layer.

Cover the dish with aluminum foil and bake for 25 to 30 minutes.

Uncover the dish, and continue baking to slightly brown the cheese.

Remove from the oven and keep warm to let the potato absorb some of the moisture for at least 15 minutes.

Serve warm.