January 27, 2023
Butternut Squash Soup with Chavrie Goat Cheese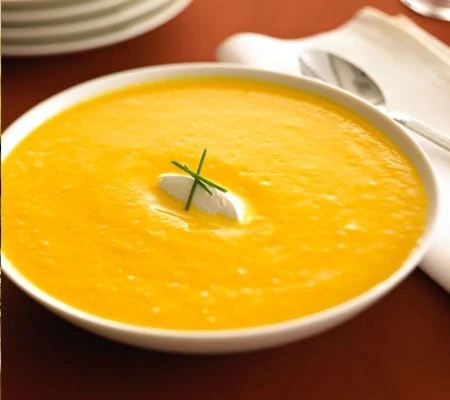 45 min

6

easy
Recipe
Peel and remove seeds from the squash cut in large 2 inch pieces.

Place squash in heavy gauge sauce pot and cover with the milk and water.

Bring to a boil and simmer for 20 minutes until very tender.

Add 1 package Chavrie Goat Cheese Pyramid and bring back to a simmer.

Remove from the heat.

Carefully remove squash with a slotted spoon and place in blender. Add enough of the cooking liquid to cover the squash puree in the blender. Be very careful: you must leave the center cap of the blender off so you do not trap the steam (cover loosely with a towel).

Pour into a 1 gallon sauce pot and keep warm.

Reserve and repeat until all the squash has been pureed.

Adjust to desired consistency with the remaining cooking liquid. Season with salt and pepper.

To serve, ladle the hot soup into the individual soup bowls and top with a dollop of Chavrie Goat Cheese Pyramid garnish with fresh herbs.