January 27, 2023
Caramelized Onion Prosciutto Risotto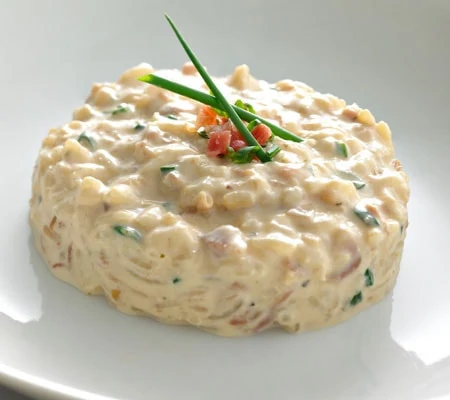 Ingredients
1 pkg. (5.3 ounce) Caramelized Onion Chavrie Pyramid

7 cups chicken broth

3 tablespoons olive oil

1/2 cup onion, minced

Salt and pepper to season

2 cups Aborio rice

1/2 cup dry white wine

2 ounces prosciutto, julienne

1 tablespoon parsley, chopped to garnish

15 min

2-4

medium
Recipe
Bring the chicken broth to a boil and keep warm over low heat.

Heat 3 tablespoons of olive oil in a medium sauce pot over medium-high heat

Add chopped onions and cook until translucent, about 5 minutes.

Add the rice and stir quickly for about one minute until it is well coated.

Add wine and cook until it is nearly all evaporated.

Ladle 8 ounces of the warm broth and cook stirring constantly until the rice has absorbed the liquid.

Add the remaining broth, 1 cup at a time. Continue to cook and stir, allowing the rice to absorb each addition of broth before next addition.

Stir in Caramelized Onion Chavrie goat cheese and prosciutto until well incorporated.

Garnish with chopped parsley before serving.