January 27, 2023
Caramelized Red Onion Tarts with Chavrie Goat Cheese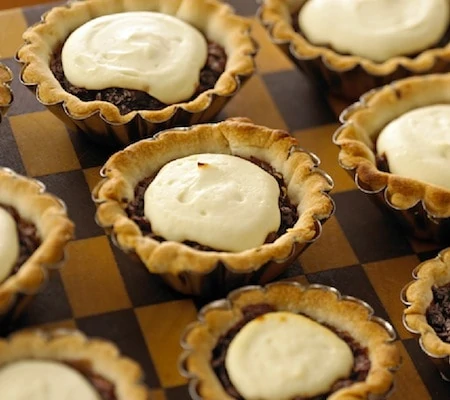 Ingredients
2 Med. Red onions (minced)

2 Tbs. Vegetable oil

2 Tbs. Unsalted Butter

1 Tbs. Sugar

2 Tbs. Red wine vinegar

1 Tbs. Red Currant or Grape Jelly

12 ea. Neutral/Savory tart shells

30 min

4-6

easy
Recipe
Heat oil and butter over medium heat in heavy gauge skillet.

Add minced onions and cook until translucent about 10 minutes.

Add sugar, jelly and vinegar and cook to a syrupy consistency (15 minutes) stirring occasionally.

Remove from heat and let cool to room temperature.

Place tart shells on baking tray, spoon 1 Tbs. of caramelized onion in each tart shell, spread Chavrie evenly on top of each tart.

Before serving heat in a 350° F oven, bake until slightly brown on edges (approximately 8-12 minutes) or brown under a broiler for 3-4 minutes.