January 30, 2023
Chavrie Goat Cheese Stuffed Shells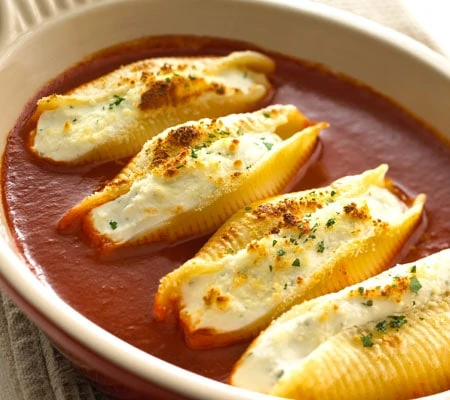 Ingredients
10-12 uncooked jumbo pasta shells

1 jar (15 ounces) tomato sauce

1 cup ricotta cheese

3 tablespoons Parmesan cheese, grated

1 each egg

1 tablespoon parsley, chopped

1 teaspoon garlic, chopped

1/2 teaspoon oregano, chopped

15 min

2-4

medium
Recipe
Preheat oven to 350°F.

Prepare shells according to the directions on the box. Rinse under cold water.

In a medium bowl combine the Chavrie, Parmesan cheese, ricotta cheese, egg, garlic and herbs. Stir until well blended.

Pour the Chavrie cheese mixture into a pastry bag and fill each pasta shell with cheese mixture.

Pour tomato sauce in baking dish and arrange shells over the top.

Cover with foil, and place in oven and bake for 40 to 50 minutes.

Remove from oven and let rest 10 minutes before serving.