Cherry Pecan Goat Cheese Brownies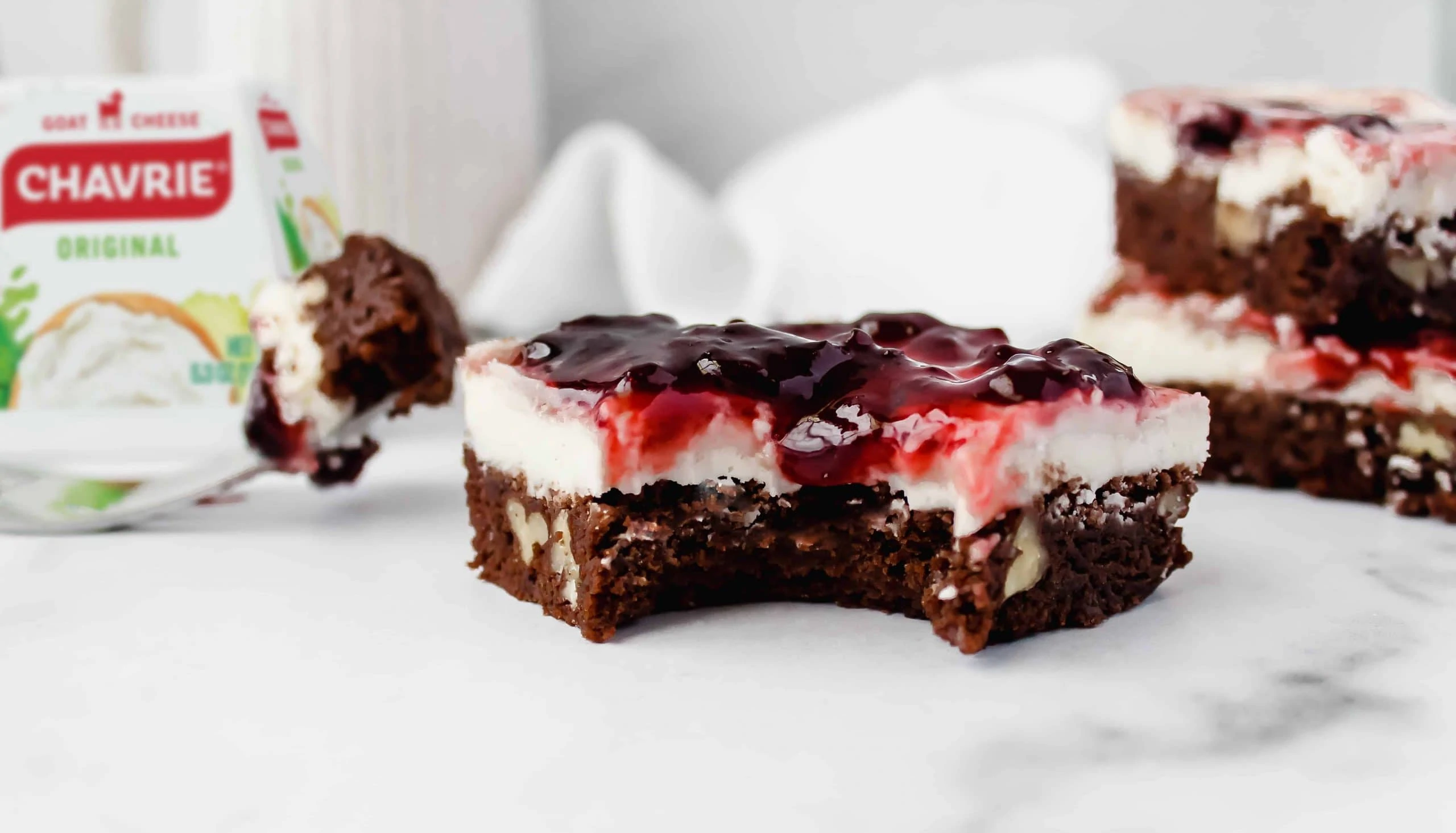 Ingredients
For the Brownie Mix:
• 4 oz Chavrie goat cheese (softened)
• 1/2 cup (1 stick) butter, melted
• 1 cup sugar
• 1 tsp vanilla extract
• 2 eggs
• 1/2 cup all-purpose flour
• 1/3 cup cocoa powder
• 1/4 tsp baking powder
• 1/4 tsp salt
• 1/3 cup chopped pecans For the Goat Cheese Frosting
• 3 oz salted butter (room temp)
• 3 cups of powdered sugar
• 1 tsp of vanilla extract
• 1/2 cup cherry preserves, divided (stirred to break down preserves)

1-2 Hours

2-3 Serves

easy
Recipe
Heat oven to 350° F. Spray a 9 x 9 pan with baking spray. 

In a large bowl beat the butter, sugar, and vanilla with a large spoon. Add eggs and beat well.

In a medium bowl stir together the dry ingredients.

Gradually, add dry ingredients to wet, stirring until well combined. Fold in chopped pecans.

Bake 20 – 23 minutes, remove and cool completely.

In a mixer, add butter and goat cheese and mix until smooth.

Add in the powdered sugar 1/2 cup at a time and continue to beat, scraping the sides throughout.

Add in the vanilla extract and continue to mix.

Swirl in 1/4 cup cherry preserves into the frosting. Spread frosting over the brownies and place in the fridge for at least 2 hours to set. Preferably overnight.

Remove brownies from fridge and place on a cutting board.

Cut brownies into 12 servings. Top with remaining cherry preserves and serve.
Pairings recommandations
Perfect with a bottle of white wine.