January 30, 2023
Chicken Wontons with Chavrie Goat Cheese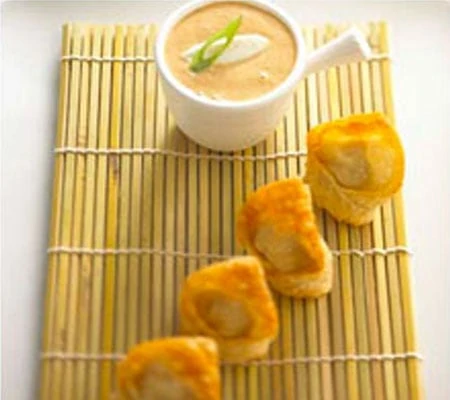 Ingredients
½ lbs ground Chicken

1 tsp. lime juice

1 Tbsp cilantro, leaves chopped

1 tsp. ginger chopped

1 Tbsp. curry paste (your preference)

1 pkg. Square wonton wrappers

1 C water

Vegetable oil

30 min

4-5

easy
Recipe
Put the chicken, lime juice, honey, red curry paste, and cilantro into a medium bowl and mix well by hand.

Split the Chavrie Goat Log in half and cut ¼ inch half moon shaped pieces.

Lay out 10 wonton wrappers in a row. Put 1 half moon shaped piece of Chavrie Goat Log into the center of each square. Top with 1tsp. of chicken mixture.

Working quickly, dip your fingers into the water and moisten the edges of the wonton. Fold it over the filling to form a triangle, pressing well to seal. Curl the 2 points in towards each other, moisten 1 point and press them together to form a bishop's hat. Repeat with the remaining wontons.

Pour 3 inches of the vegetable oil into a large saucepan and place over medium heat. When ready to cook, drop the wontons into the hot oil in batches of 6 until puffed and golden, about 3 minutes.

Remove and let the excess oil drain.