January 24, 2023
Crab Empanadas with Chavrie Goat Cheese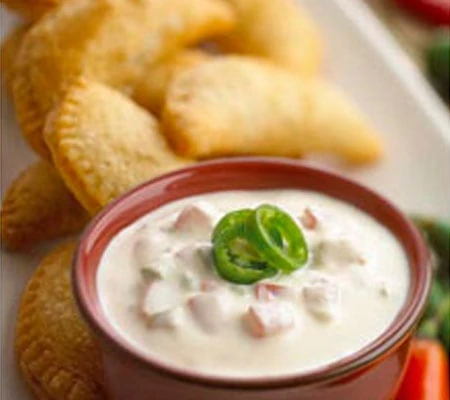 Ingredients
For Filling:
1 – 3.5 oz. Chavrie log

1 Tbsp. Olive oil

1 Tbsp. Spanish onion, chopped

3 cloves garlic, minced

1 Tbsp. Jalapeno, minced

¼ C Red Pepper (chopped)

8 oz. Picked lump crabmeat

1 tsp. Chopped cilantro

1 Tbsp. Italian parsley (chopped)

7 oz. Corn (drained)

1 tsp. Cumin

Salt and freshly ground black pepper to taste
For Empanada dough:
2 bx. Frozen Pie dough (thawed)

1 qt. Vegetable oil for frying

50 min

5

medium
Recipe
In a saute pan on medium, heat olive oil and saute onion, garlic, jalapeño, and red pepper. Set aside to chill.

In a large mixing bowl, combine the remaining ingredients. Season, to taste, with salt and pepper.

Mix sautéed vegetables with the crabmeat mixture and place in the refrigerator.

Lay thawed pie dough on a lightly floured flat surface, cut 3 inch circles.

To assemble, spoon about 1/2 to 3/4 Tbsp. of the filling in the center of each empanada dough round.

Fold over to form a half-moon pie shape and crimp the edges to seal.

Place finished empanadas in the refrigerator on sheet tray to chill.

Preheat deep fryer to 350°F.

Deep Fry until golden brown and crispy.