January 30, 2023
Cranberry Chavrie Belgium Endive Salad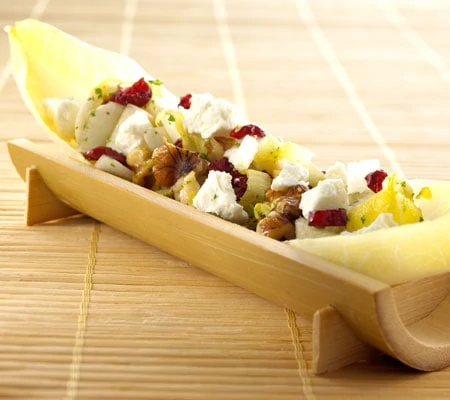 Ingredients
3 heads Belgium endive

2 ounces white balsamic vinegar

1/4 cup walnut oil

1 tablespoon parsley, chopped

1/2 cup walnuts, chopped

Salt & pepper to season

15 min

4-6

easy
Recipe
Remove core from endive and separate and reserve 12 leaves for garnish.

Cut remaining endive into 1/2 inch pieces.

In a mixing bowl combine cut endive, walnuts, walnut oil, and balsamic vinegar. Season with salt and pepper.

Carefully crumble Cranberry Chavrie Goat Log into bowl and gently toss with seasoned endive.

Arrange whole leaves decoratively on serving platter and top with salad and serve.