January 30, 2023
Easter Bread with Chavrie Fresh Goat Cheese Log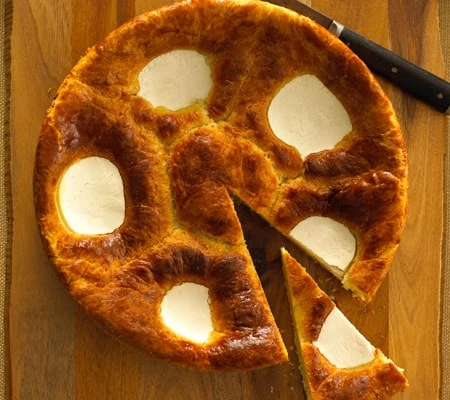 Ingredients
1/2 cup milk

2 pkg. dry yeast

5 cups or 1 lb 4 oz. bread flour

6 eggs

3 tbsp. or 1 oz. sugar

1 tsp. salt

12 oz. butter (softened)

1 egg for egg wash

2 hours

4-6

medium
Recipe
In sauce pan, heat milk to scald and let cool to room temperature.

Add the first cup or 4 oz. of bread flour and yeast and let rise until doubled in volume.

Using the paddle attachment in mixing bowl, begin adding eggs gradually while mixing on slow speed.

Add remaining dry ingredients to form a soft dough.

Begin adding butter on slow speed until all butter has been added and incorporated well.

Divide the dough into five equal pieces and place in a round cake pan.

Cut the Chavrie Fresh Goat Cheese Log into 5 pieces and place a piece in the center of each separate section of bread dough.

Let dough rise for 30 minutes.

Preheat oven to 375° F.

Brush with egg wash and bake for 50 minutes – 1 hour, until golden brown.