January 30, 2023
Fig Bars with Goat Cheese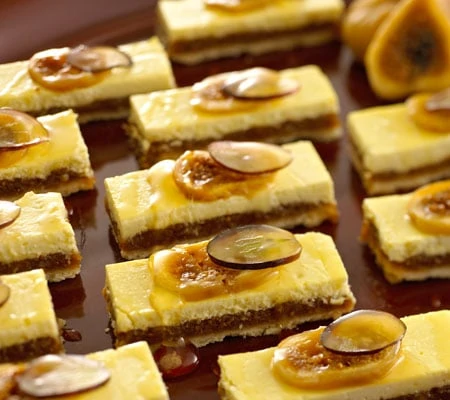 Ingredients
1 sheet prepared pie dough

1 each egg

1 cup fig jam

3 hours to overnight

4-6

easy
Recipe
Preheat oven to 350°.

Place 1 sheet of pie dough in a 9×13 inch baking dish and trim any excess edges to cover only the bottom of the pan.

Spread the fig jam evenly over the sheet of pie dough.

Mix the Chavrie Goat Cheese Pyramid with the egg and pour mixture over the fig jam.

Bake 8-12 minutes, until set.

Cool in refrigerator at least 3 hours, or overnight.

Remove from the refrigerator when completely chilled and cut into 1 x 3 inch bars.

Arrange on a serving platter and garnish with sliced figs and grapes.

Drizzle each bar with honey before serving.