January 30, 2023
Frittata with Chavrie Goat Cheese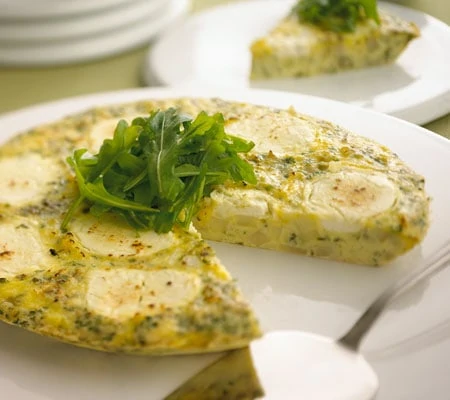 Ingredients
3 Tbsp. Olive oil

¼ C minced onion

2 C cooked and diced potatoes

12 Eggs

2 tsp. chopped parsley

2 tsp. chopped chives

Salt and pepper to season

30 min

6-8

easy
Recipe
Preheat oven to 325° F.

Heat the olive oil in a 10 inch non stick skillet over medium heat.

Sauté the onions for one minute add the diced potatoes.

Season the eggs with salt and pepper and mix well. Add the parsley and chives, pour them over the onions and potatoes, stir to mix.

Reduce the heat to low and cover and cook until the eggs are nearly set or firm 10 -15 minutes.

Remove the cover.

Slice the Chavrie Goat Log into ¼ inch slices and place them in pizza topping fashion on the nearly cooked eggs.

Return to the oven uncovered to finish cooking 5-6 minutes.

When cooking is complete slide frittata onto a serving plate, cut in wedges and serve.