January 30, 2023
German Potato Salad with Chavrie Goat Cheese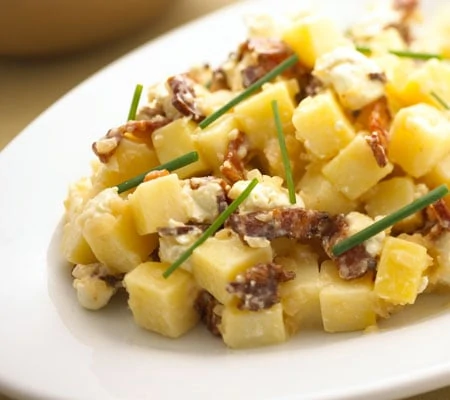 Ingredients
2 lbs. Yukon gold potatoes

1/2 lbs. Bacon cut in ¼ inch strips

3/4 C Onion minced

1/3 C Apple cider vinegar

1/4 C Sugar

1 Tbsp. Dijon mustard

1 tsp. Salt

2 Tbsp. Chives, cut ½ inch for garnish

30 min

4-6

easy
Recipe
Place the potatoes in a medium-size pot and cover them with enough water to extend 2 inches above the surface of the potatoes. Salt the water and bring to boil over medium-high heat. Continue cooking until potatoes are tender when pierced with a fork, about 15 to 20 minutes. Drain and dice into 1/2-inch pieces.

Set aside in a warm place.

Cook the bacon in a large skillet over medium-high heat. Once crisp, place on a paper towel-lined plate

Pour off the rendered fat, reserving 1/4 cup in the pan.

Turn the heat to medium and add the onion. Cook until translucent about 4 to 5 minutes.

Whisk in the vinegar, sugar, mustard, and salt and stir until thick and bubbly. Add the diced, cooked potatoes and toss to coat.

Top with crumbled Chavrie Goat Log, bacon and garnish with the chives.

Serve warm.