January 30, 2023
Grilled Salmon with Chavrie Goat Cheese Caper Sauce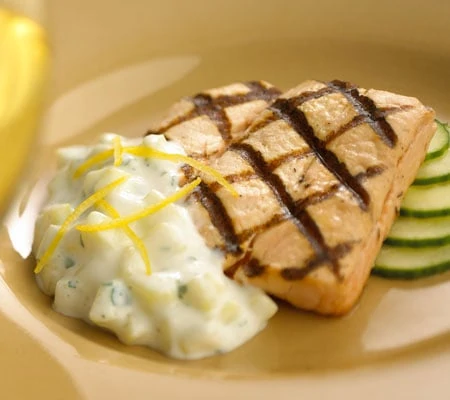 Ingredients
1 ½ lb. salmon fillet, about 1 inch thick

3 tbsp. mayonnaise

2 tbsp. chopped fresh dill weed

2 tsp. grated lemon peel

2 tbsp. fresh lemon juice

3 tbsp. capers, drained

30 min

6

easy
Recipe
Heat grill to medium heat. Spread 1 tablespoon of the mayonnaise on surface of the salmon. Sprinkle with 2 teaspoons of the dill.

Place on grill skin side down. Cover and cook 10 to 12 minutes over medium heat or until fish flakes easily with fork. (Skin will probably adhere to grill. Slide wide spatula between skin and flesh to remove from grill.)

Meanwhile, in a small bowl, combine remaining mayonnaise and dill weed, Chavrie Goat Cheese, lemon peel, lemon juice, and capers. Serve over salmon.