January 30, 2023
Herbed Cheesecake with Chavrie Goat Cheese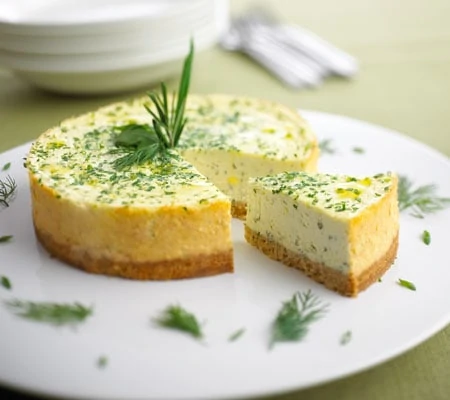 Ingredients
For the Shell:
1 Cup Bread Crumbs

4 oz. Grated parmesan

1 Tbsp. Melted butter

1 tsp. Chopped rosemary
For the Filling or Batter:
3 ea. Eggs

2 Tbsp. Flour

2 Tbsp. Milk

½ tsp. Chopped parsley

½ tsp. Chopped thyme

½ tsp. Chopped chives

Salt and pepper to season

20 min

12

medium
Recipe
For the Shell:

Preheat oven to 350°F.

Blend all ingredients together until mixed well.

Press into the bottom of a 9 inch baking dish or false bottom pan.

Bake for 10 minutes to crisp up the shell.

For the Cheesecake:

Blend Chavrie Goat Cheese with eggs and mix well.

Add the remaining ingredients and mix.

Scatter the spinach evenly over the bottom of the pre-baked shell.

Pour custard into the shell.

Bake at 350°F until a knife blade inserted into the cake comes out clean about 45 minutes.

Use Roast Garlic and Herb Chavrie omit the herbs in batter.