January 30, 2023
Leek Gratin with Chavrie Goat Cheese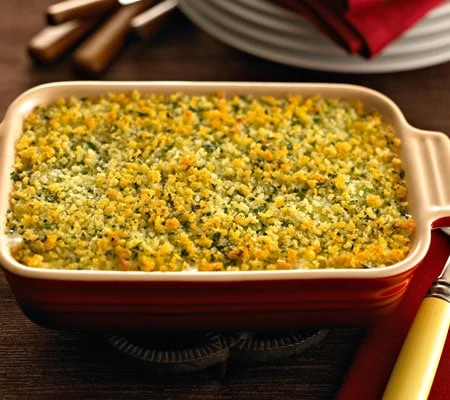 Ingredients
1 bunch leeks

2 tbsp. butter

1-4oz. can of sliced mushrooms

1 tbsp. flour

1 cup. milk

1 tbsp. parsley (chopped)

2 tbsp. Panko bread crumbs

10 min

10

easy
Recipe
Preheat oven to 375° F.

Begin by removing the dark green tops of the leeks.

Split the whiter bottoms in half lengthwise.

Cut the white bottoms into ¼ inch pieces.

Wash cut pieces with cold water and drain.

Melt the butter in a sauté pan over medium high heat.

Sauté the cut leeks in the butter until translucent and slightly tender.

Add the flour to the leeks and stir for one minute.

Add the milk and Chavrie Goat Cheese and bring to a simmer.

Remove from the heat.

Arrange sliced drained mushrooms in the bottom of a greased casserole dish.

Spoon leek mixture over the top of the mushrooms.

Mix the chopped parsley and Panko bread crumbs and sprinkle over the leek mixture.

Bake in the oven for 12-15 minutes until golden brown and bubbly.