January 30, 2023
Mushroom Soup with Chavrie Goat Cheese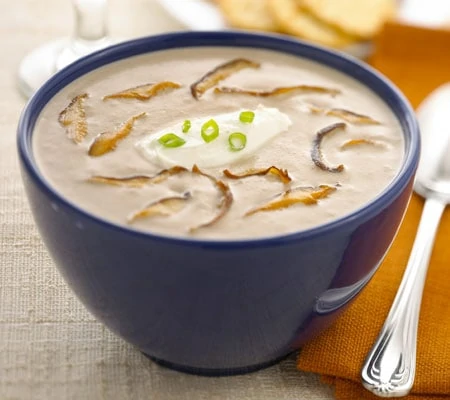 Ingredients
1 ea.. Shallot (chopped)

1 Oz. Butter

2 Tbsp. Flour

2 C. Chicken stock

2 C. Milk

1 lb. Mushrooms white or assorted wild (sliced)

20 min

4

easy
Recipe
Sweat shallots in butter until tender (without color) in a heavy gauge sauce pot.

Add mushrooms and sauté until tender.

Add flour and stir well while remaining on the heat.

Add chicken stock and milk. Bring to a boil simmer for 20 minutes.

Carefully pour contents into a blender. And puree well ( be very careful you must leave the center cap of the blender off and cover loosely so you do not trap the steam..)

Return to sauce pot and bring to a simmer add the Chavrie Goat Cheese and season with salt and pepper.