January 30, 2023
Orange & Sage Salad with Chavrie Goat Cheese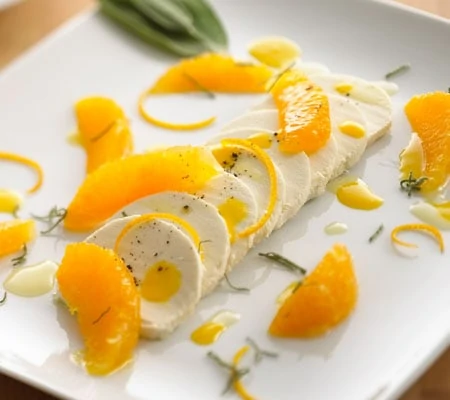 Ingredients
6 ea. Fresh sage leaves

1 ea. Orange

1 oz. Balsamic Vinegar

1 oz. Olive Oil

10 min

4-6

easy
Recipe
Slice Chavrie Fresh Goat Log into 8-10 slices.

Arrange Goat cheese slices in a single line in a shingled fashion on a rectangle platter.

Zest one Orange and reserve the zest for garnishing.

Remove peel and section each orange into segments.

Drizzle olive oil and vinegar on cheese.

Top with orange segments.

Garnish with orange zest.

Serve at room temperature with sliced baguettes or your favorite crackers.