January 31, 2023
Potato Gratin with Chavrie Goat Cheese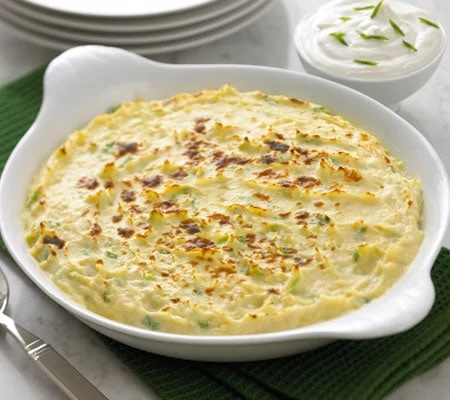 Ingredients
8 ea. medium peeled russet potatoes cut in 1inch pieces

1 tsp. chopped garlic

1 cup milk

4 oz. butter

½ cup crosscut scallions

30 min

6-8

easy
Recipe
Place cut potatoes in a large saucepan, with enough salted cold water to cover the potatoes by 1/2 inch.

Bring to a simmer and cook for 20 to 25 minutes until they are tender but not falling apart.

While the potatoes are cooking, in a small saucepan heat the milk, butter, chopped garlic and Chavrie Goat Cheese over moderately low heat.

Stir mixture until the butter and goat cheese are just melted and smooth. Keep the mixture warm.

Drain the potatoes well and while still warm, mix with an electric mixer for 2 minutes.

Fold in the Chavrie mixture, the scallion, and salt and pepper to taste, and mix until the potatoes are fluffy and smooth 1-2 minutes.

Transfer the mixture to a 9 inch baking dish. (The potatoes may be prepared up to this point 2 days in advance and kept covered and chilled).

Bake in a 350 degree oven until golden brown 20-25 minutes.