January 31, 2023
Roasted Asparagus with Chavrie Goat Cheese Dijon Sauce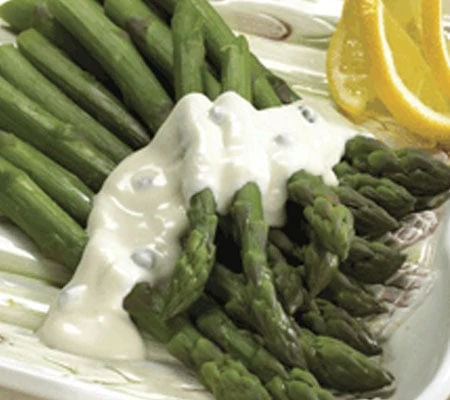 Ingredients
1 1/2 lb. Fresh asparagus spears, trimmed, cleaned

2 tsp. Extra-virgin olive oil

1 tbsp. Whipping cream

1 tsp. Dijon mustard

2 tbsp. Capers, drained

20 min

6

easy
Recipe
Blanch asparagus for 1 – 1 1/2 minutes.

Heat oven to 400° F. Arrange asparagus in single layer in shallow baking pan.

Drizzle with olive oil. Bake 5 minutes or until desired doneness.

In small microwavable bowl, mix Chavrie, cream and mustard.

Microwave on High 30 seconds. Stir; microwave another 30 seconds or until warm.

Stir in capers.

Serve sauce with asparagus.