January 27, 2023
Roasted Beet and Walnut Salad with Chavrie Goat Cheese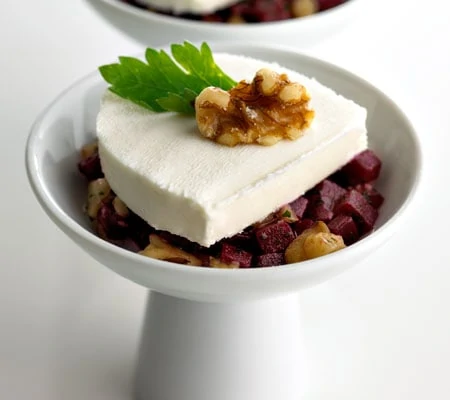 Ingredients
1 1/2 pounds red beets, washed

1 cup extra-virgin olive oil, divided into 2 -1/2 cups

1/4 cup white balsamic vinegar

1/4 cup walnut oil

1 tablespoon parsley, chopped

1/2 cup walnuts, chopped – reserve a few whole pieces for garnish

Salt & pepper to season

Fresh parsley sprigs for garnish

15 min

4-6

easy
Recipe
Preheat the oven to 425 degrees F.

Spread aluminum foil onto flat surface.

Place beets on foil and drizzle olive oil generously over beets and season with salt and pepper.

Seal aluminum foil around the beets and place on a baking sheet.

Roast beets for 45 minutes to 1 hour, or until tender.

Remove from the oven, unwrap the beets and cool.

When the beets are cool enough to handle, peel and dice very small.

Place the diced beets in a bowl. Mix with chopped walnuts, balsamic vinegar and chopped parsley. Season with salt and pepper.

Divide the beet salad evenly into 4-6 serving dishes.

Top each dish with sliced Chavrie Goat Log.

Garnish with whole walnuts and parsley.