January 31, 2023
Shrimp Madagascar with Chavrie Goat Cheese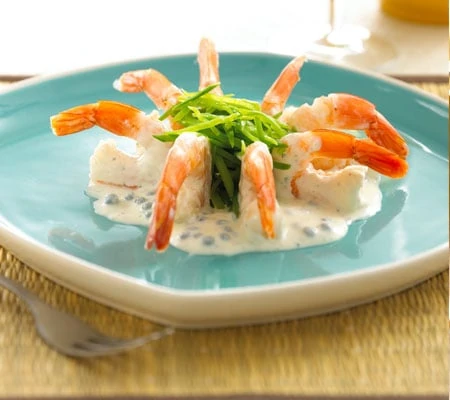 Ingredients
2 tbsp. vegetable oil

24 ea. 16-20 size Shrimp raw peeled and deveined

2 tbsp. Green Madagascar peppercorns crushed

2 oz. Pernod (licorice flavored liquor)

1 cup shicken stock

1 tbsp. Dijon mustard

1 tbsp. Chopped green scallion

10 min

4

easy
Recipe
Heat a large heavy sauté pan over medium high heat and pour in oil.

Season shrimp with salt and pepper.

Sauté the shrimp in the oil for 1 minute on each side.

Remove shrimp from the sauté pan and set aside.

Pour out oil from the pan.

Add peppercorns back to the sauté pan and heat for 30 seconds.

Deglaze with Pernod*.

Add Chavrie Goat Cheese and chicken stock and bring to a boil.

Reduce until sauce is thick enough to coat the back of a spoon.

Whisk in mustard and return to a simmer.

Place shrimp back into simmering sauce to heat.

Place 6 shrimp on each plate and ladle sauce over each shrimp.

Garnish with chopped scallions.