January 31, 2023
Spaetzle with Chavrie Goat Cheese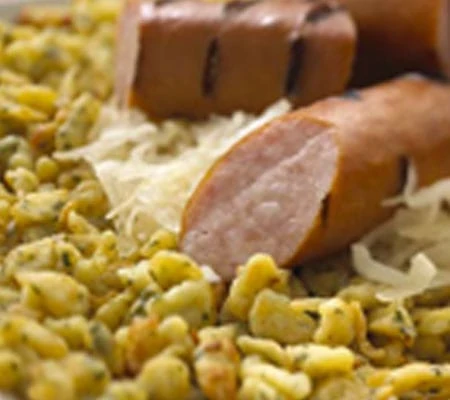 Ingredients
2 ea. eggs

1 tbsp. chopped parsley

1 pinch nutmeg

8 oz. all- purpose flour

2 oz. butter

Salt and pepper to taste

15 min

2-4

easy
Recipe
Combine eggs, salt, pepper, nutmeg and parsley. Mix well.

Work in the flour and Chavrie by hand to form a smooth consistency.

Let rest for 10 minutes.

Meanwhile bring a large pot of salted water to a boil.

Using a spaetzle press, drop dough in boiling water.

When spaetzle float they are cooked.

Remove spaetzle with a spider and shock them in cold water.

When chilled drain well.

To serve spaetzle sauté in butter.