January 31, 2023
Spinach Quiche with Chavrie Goat Cheese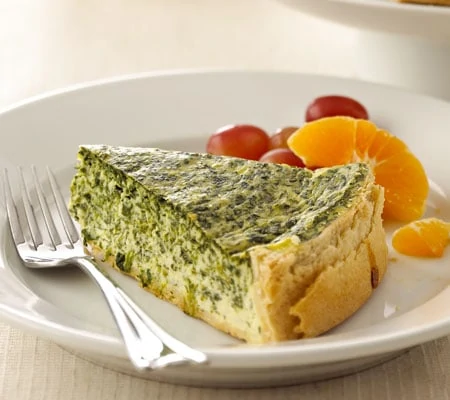 Ingredients
4 Eggs

6 oz. Heavy cream or (Alouette Crème Fraiche)

6 oz. Half and Half

½ tsp Cayenne

½ tsp. Salt

¼ tsp. Ground white pepper

1 9-inch pie crust pre-baked

1 pkg. Frozen spinach, thawed and drained

1 pinch Nutmeg

15-20 min

8

easy
Recipe
Blend Chavrie with eggs and mix well.

Add cream and half and half to make custard and season with salt, pepper, cayenne and nutmeg.

Scatter the spinach evenly over the bottom of the pre-baked pie crust.

Pour custard into the shell stirring with a fork to evenly distribute the spinach.

Bake at 350° F for 45 minutes, until a knife blade inserted into it comes out clean.

Let rest and serve warm.