January 31, 2023
Stuffed Mushrooms with Chavrie Goat Cheese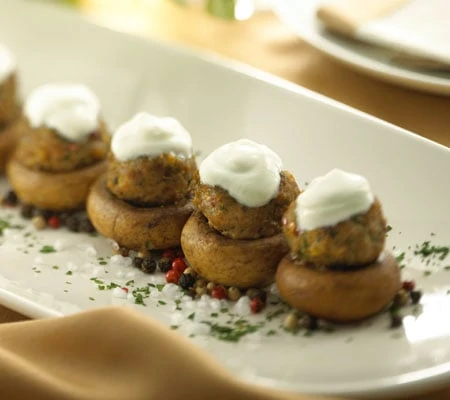 Ingredients
1 pkg. 5.3 oz Chavrie Pyramid plain or Basil and Roasted Garlic

24 ea. 2-2 1/2 inch stuffing mushrooms

8 oz. bulk (loose) Italian sausage

½ C Italian style bread crumbs

2 Tbsp. Chopped fresh parsley

30 min

8-12

easy
Recipe
Preheat oven to 350°F.

Clean mushrooms with a soft brush or cloth.

Remove the stems of the mushrooms and chop in food processor.

Mix sausage , bread crumbs. 2/3 package of Chavrie and chopped mushroom stems.

Stuff each mushroom cap with about 1 Tbsp. of sausage mixture.

Place stuffed mushrooms on a baking tray and bake for 15- 18 minutes until sausage is cooked and mushrooms are tender.

Arrange on a serving platter and top each mushroom with a dollop of the remaining Chavrie and sprinkle with chopped parsley.