January 31, 2023
Stuffed Tomatoes with Chavrie Goat Cheese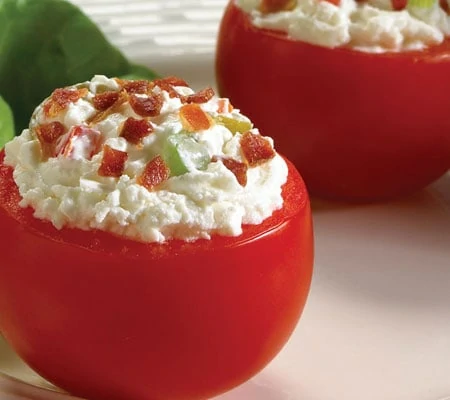 Ingredients
2 small-to-medium tomatoes

2 tbsp. sliced pimento-stuffed olives, well drained

2 green onions, thinly sliced

1 tsp. fresh thyme

4 tsp. cooked bacon pieces

fresh thyme leaves (optional)

30 min

4

easy
Recipe
Cut tomatoes in half crosswise. Scoop out insides with spoon. Turn tomatoes upside down on several layers of paper towels to drain. Separate pulp from seeds; chop pulp.

Pat dry with paper towels.

In small bowl, mix Chavrie, tomato pulp, olives, and onions. Spoon into drained tomato halves. Sprinkle top with bacon pieces.

Garnish with fresh thyme leaves, if desired.