January 31, 2023
Tarragon Chicken with Mushrooms and Chavrie Goat Cheese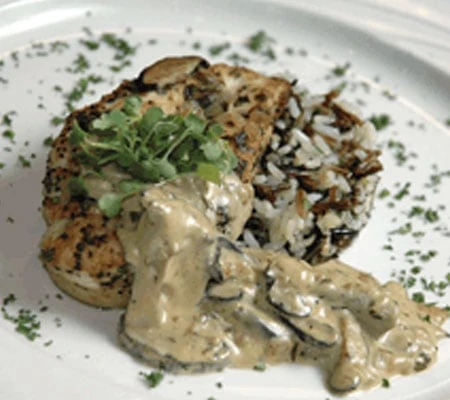 Ingredients
1 pkg. (7 oz.) Alouette Crème Fraîche

4ea. (8 oz. each) Chicken breast, boneless, skinless

To taste Sea salt and black pepper

2 Tbsp. vegetable oil

1 Tbsp. unsalted butter

2 cups Shiitake mushrooms, sliced

3 oz. Shallots, minced

1 cup dry white wine

2 tsp. Dijon mustard

2 Tbsp. Fresh tarragon, chopped

30 min

4

easy
Recipe
Season chicken with salt and pepper.

Heat oil and butter in large sauté pan until the butter is melted. Sear chicken, 2 mins. on each side, and remove from pan.

Add mushrooms and shallots, and sauté until mushrooms become tender.

Add wine, mustard, Chavrie and Alouette Crème Fraiche to center of the pan stir until blended, reduce to low heat.

Return chicken to the pan and simmer for 10 mins.

Place chicken on serving dishes.

Add tarragon to sauce and salt and pepper to taste.

Top chicken breasts with finished sauce.