January 31, 2023
Tart Tatin with Chavrie Goat Cheese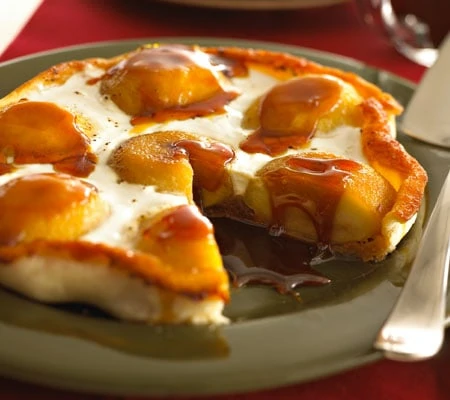 Ingredients
5 each Granny Smith Apples, peeled, cored and halved

1 each lemon juiced

6 tbsp. unsalted butter

1 cup sugar

1 each prepared pie dough shell

30 min

6-8

easy
Recipe
Preheat the oven to 400 degrees F.

In a large bowl toss the apple halves with the lemon juice and set aside.

Melt the butter in a 9 -inch skillet over high heat. Add the sugar and cook until the sugar melts and then caramelizes to an amber color, swirling the skillet if necessary for even browning (be very careful the sugar will be extremely hot).

Remove the skillet from the heat.

Arrange the apples, rounded sides down, over the caramelized sugar.

Return the skillet to the heat. Cook over medium-low heat until the apples are almost tender 10 to 15 minutes.

Top cooked apples in the skillet with the prepared pie dough tucking in the sides.

Bake for 15-20 minutes in the oven until golden brown.

Remove from oven and let it rest to cool for 10 minutes.

Run a knife around the edges of the tart and then place a large plate or platter over the skillet.

Using a dry towel or oven mitts, CAREFULLY grasp platter and skillet and invert, letting tart settle onto the platter and giving skillet a quick tap if necessary.

Carefully lift off the skillet and place any apples remaining in the skillet on top of the tart.

Spread the Chavrie Goat Cheese Pyramid into any gaps between the apples while still warm to let the goat cheese melt. Tart can be placed back in the oven to assist in the melting of the cheese.

Serve warm.