January 31, 2023
Vegetable Lasagna with Chavrie Goat Cheese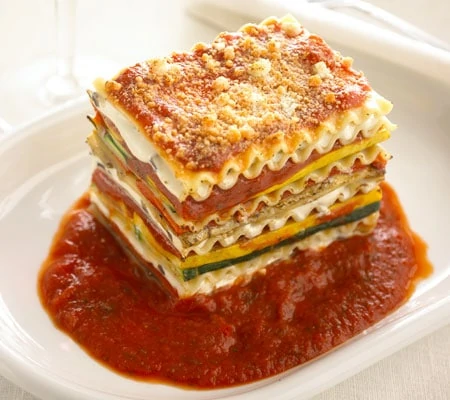 Ingredients
2 small summer squash

1 ea. eggplant peeled

Kosher salt

1 12 oz. jar roasted red peppers drained

1/3 C pitted olives

2 tsp. chopped thyme

2 ea. eggs

1 jar tomato sauce

1 box ready to use Lasagna noodles

Freshly ground black pepper

1/4 C grated Parmesan

1 hour

6-8

easy
Recipe
Slice the eggplant and squash lengthwise into 1/8 to 1/4-inch thick strips. Lay the strips out on baking sheet pan and salt generously. Set aside.

Slice the peppers lengthwise into 1 1/2-inch strips.

Preheat the oven to 375 degrees F.

Mix the Chavrie, olives, thyme, and eggs together in a bowl and season, to taste, with salt and pepper.

Thoroughly wipe excess salt and moisture from eggplant and squash with paper towel.

Spread 1 cup of the tomato sauce into the bottom of an 8×11-inch baking dish. Begin layering, remembering to season with pepper between each layer. Start with the eggplant and then summer squash, peppers and pasta.

Spread sauce evenly over pasta.

Dollop spoonfuls of the cheese mixture over the sauce cover.

Repeat with the remaining eggplant, squash, goat cheese, and sauce.

Sprinkle top layer with Parmesan and bake, covered, for 30 minutes, then uncover. Continue baking until the vegetables are tender and the sauce thickens, about 15 minutes more.

Let lasagna stand for 10 minutes before slicing.