January 31, 2023
Wild Rice Stuffing with Chavrie Fresh Goat Cheese Log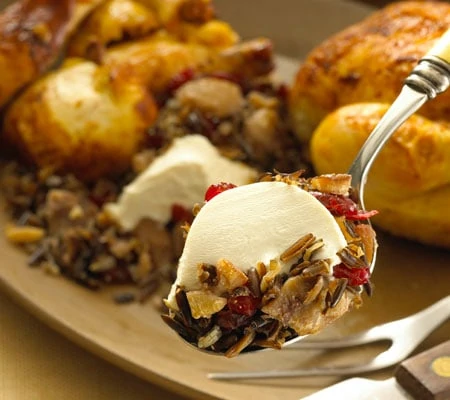 Ingredients
4 cup water

1 cup wild rice

½ cup onions (minced)

½ cup celery (diced)

½ cup carrot (diced)

6-8 chestnuts

½ cup dried cranberries

4 each Cornish hens

salt and pepper to season

30 min

4

easy
Recipe
Cook the rice in boiling water following directions on the package.

In a separate pan, sauté together the carrots, onions and celery.

When rice is almost cooked, add the sautéed vegetable mixture, chestnuts and cranberries, then spread out on a sheet tray to cool.

Pre-heat oven to 375° F.

Prepare the hens by seasoning the interior body cavity with salt and pepper.

Spoon liberal spoonfuls of the wild rice mixture into the hens.

Divide the Chavrie logs into 4 slices.

Insert one slice of Chavrie log into each hen.

Roast hens 45 minutes to 1 hour or until an instant reading thermometer inserted in thickest part registers.

170 degrees, allow hens to rest.