January 24, 2023
Appetizer Strudel with Chavrie Goat Cheese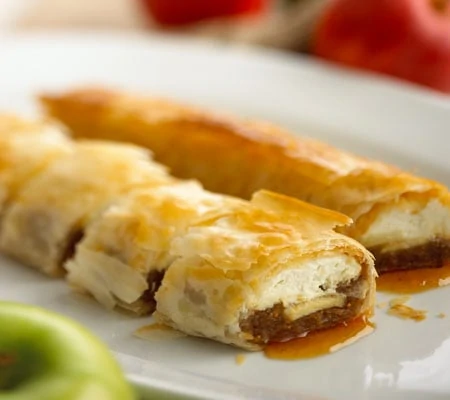 Ingredients
1 bx. Phyllo dough

½ lbs. Butter (melted)

1 ea. Granny Smith apple (peeled, cored, halved, and thinly sliced)

30 min

3-4

easy
Recipe
Preheat oven to 375° F.

Remove the phyllo dough from the box, unfold, and cover with a damp towel.

Place 1 sheet of phyllo on the work surface and brush lightly with melted butter.

Repeat 2 more times to create 3 layers, being sure to keep the unbuttered phyllo covered.

Spread Divina Fig Jam in a 1 ½ inch wide row ½ inch from the edge of the layered phyllo, leaving about 1/2 inch space on each end.

Place the apple slices on the jam in a uniform layer.

Split the Chavrie log in half and top the apples with the rounded side facing up.

Fold the ends over the apples and cheese. Roll the phyllo and filling over onto itself to form a strudel roll.

Place the roll seam side on the baking sheet. Brush the top of the strudel with the butter.

Bake to a golden brown, about 10 to 15 minutes. Allow to cool for 10 minutes, and then cut into portions.