January 30, 2023
Marinara Dip with Chavrie Goat Cheese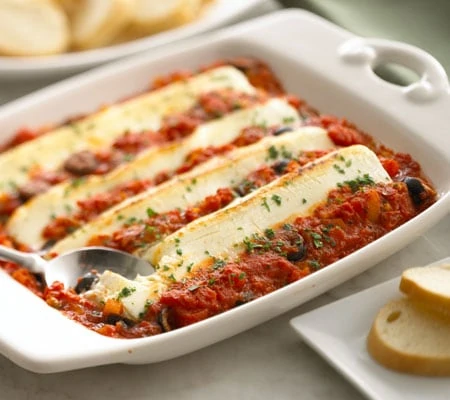 Ingredients
1 Tbsp. Olive oil

1 tsp. Fresh chopped garlic

1 28 oz. Can Tomato sauce

1 pinch Dried oregano

1 -2oz. can Sliced Black Olives

1 Tbsp. Bread Crumbs

Cracked Black peppercorns

10 min

2-3

easy
Recipe
Preheat oven to 400 degrees F.

Sauté chopped garlic in olive oil ( do not brown) in a sauce pot.

Add tomato sauce, olives and oregano.

Simmer until thickened.

Set aside to cool.

Slice the Chavrie Fresh Goat Cheese Log lengthwise into 4 slices.

Place slices in a greased 9 inch casserole alternating sauce and cheese.

Season with cracked black peppercorns.

Top with bread crumbs.

Bake until bubbly and slightly brown about 20 minutes.

Serve with garlic bagel chips or garlic crostini.