January 30, 2023
Portobello Panini with Chavrie Goat Cheese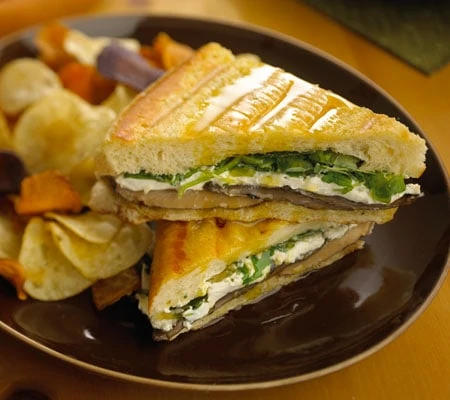 Ingredients
½ C. extra-virgin olive oil, plus more for drizzling

1 lbs. Portobello mushrooms

2 Tbsp. truffle oil

1 small focaccia loaf

1 small bunch arugula

30 min

4

easy
Recipe
Preheat grill to high.

Remove the gills from the Portobello mushrooms and marinate with olive oil.

Grill the mushrooms until cooked, remove from the grill and set on a paper towel to drain.

Cut the focaccia into 4 pieces, slice them horizontally, and drizzle with some olive oil.

Lay the 4 bottom slices of focaccia on a flat surface. Layer mushrooms evenly on each slice.

Place a slice of Chavrie on each.

Top with arugula.

Drizzle with truffle oil.

Put the tops on and gently press each sandwich to flatten it slightly. Drizzle some more olive oil over the tops.

Place each sandwich on a preheated panini press and grill until the bread is toasted and the cheese is bubbly.

Serve immediately.