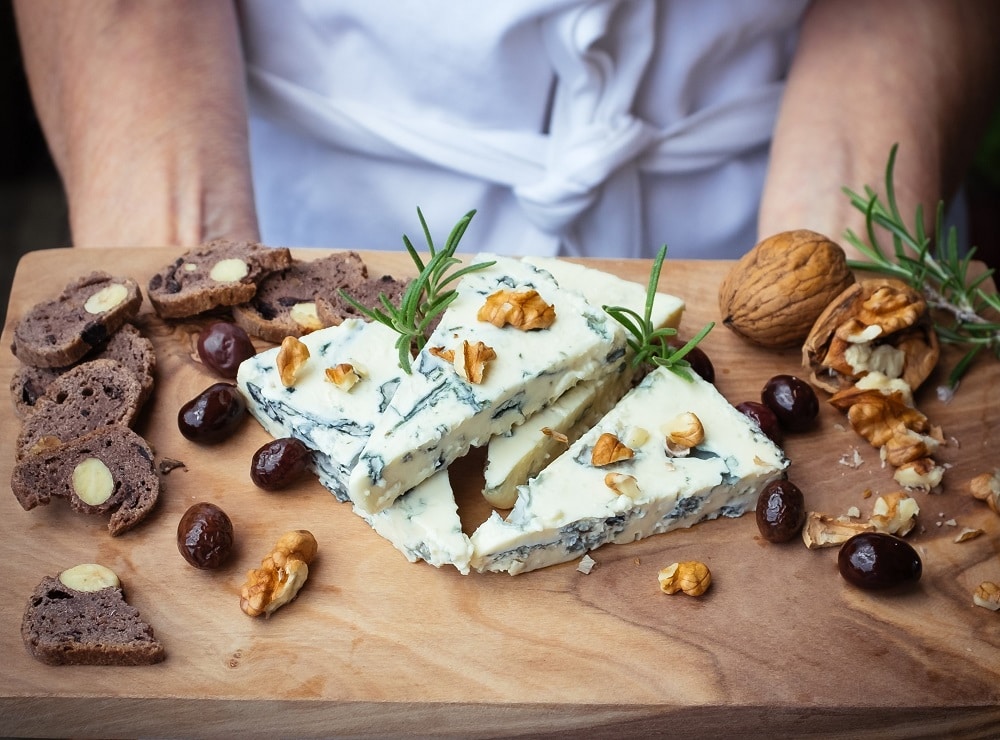 November 3, 2020
Blue cheese: Why we love it, how we enjoy it
Blue cheese: Why we love it, four ways to enjoy it

Blue cheeses hold a special place on any cheeseboard. They are usually stronger cheeses that you'll keep for last because of their powerful taste. But many cheese lovers want to go straight for blue cheese, and for those, Chef Greg has prepared four delicious ways to heighten your blue cheese tasting experience.
Rogue Oregon blue cheese, served with chestnut chutney

For Rogue Oregon Blue, Chef Greg goes for a savory-sweet experience with his chestnut chutney. Oregon blue is already a savory sweet cheese with a hint of honey. The addition of chestnuts, onions, cranberries, apples, and old grain mustard crafted in a delicious chutney will enhance your savory-sweet experience.
Saint Agur blue cheese and its BBQ rub

Saint Agur is a delightful creamy blue cheese. So creamy that even a powdery rub won't make it dry. Chef Greg concocted a delicious BBQ rub to rediscover Saint Agur. For this recipe, you'll need nine ingredients: sugar, mustard, cayenne, salt, garlic powder, onion powder, smoked paprika, black pepper and chili powder. Mix these ingredients and rub them on your Saint Agur for a new taste of Saint Agur.
Rogue Tolman Blue cheese in a mushroom salad

Tolman Blue is a natural-rind blue cheese with subtle blue notes and earthy blue flavors. Chef Greg's recommendation is a rustic, strong-tasting mushroom salad. He cooks the mushrooms with garlic, red wine, paprika, black truffle oil, sage, lemon juice and molasses. Tolman Blue cheese is often called Caveman Blue's little brother. A rustic garnish will complement both the name and the mushroom flavors of this blue cheese.
Rogue Smokey Blue cheese, as a carpaccio with toasted hazelnuts

Rogue Smokey Blue is a blue cheese smoked over hazelnuts shells and is impregnated with their taste. To complement this nutty cheese, Chef Greg explores hazelnuts in all their forms. With toasted hazelnuts, caramelized hazelnuts, hazelnuts oil and a dash of honey for sweetness. It's the perfect dish for those who love extra-nutty cheeses.
Every blue cheese mentioned in this video is available in our shop. If you have any questions about one of these cheeses or pairing, please contact us, and we'll give you the information you want.