January 30, 2023
Creamy Risotto with Chavrie Goat Cheese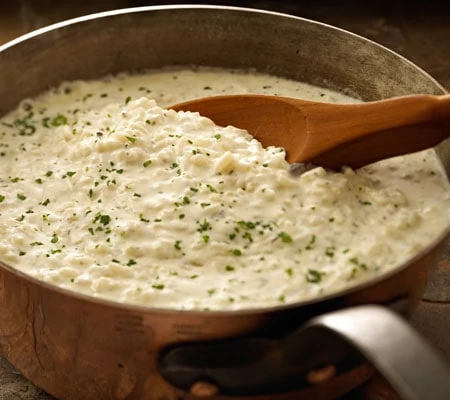 Ingredients
1 pkg. (5.3oz) Chavrie Basil and Roasted Garlic Goat Cheese

5 C Chicken stock or broth

1 Tbsp. Olive oil

½ C Minced onion

1 cup Arborio rice

½ C White wine

2 tsp. Flat leaf parsley finely chopped

2 Tbsp. Pesto

5 min

4-5

easy
Recipe
Bring chicken stock to a boil over high heat. Reduce the heat to low and keep warm.

Heat olive oil in a thick-bottomed saucepan.

Add minced onions and cook until translucent.

Pour in the arborio rice, cook for 4 minutes, stirring until well coated.

Turn the heat to high and add the white wine, simmer until mostly absorbed.

Add the hot stock 1/2 cup at a time, stirring constantly until absorbed by the rice. Continue to add stock 1/2 cup at a time, stirring to release the starch. Check rice for doneness after 18 minutes, rice should be al dente but cooked through.

Stir in Italian parsley, and Chavrie.

Season with salt and pepper serve immediately.