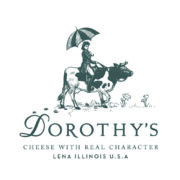 Dorothy's cheese
Dorothy's Creamery has been producing delicious flowery shaped cheese. They come from a long familial tradition of cheese making since the late 18005, when Fred Kolb opened the Kolb-Lena Cheese dairy. Today's flowery shape is inspired by the spring flowers of the Apple River Canyon in the near by area. A place Dorothy used to love.
DISCOVER OUR STORY - A cheese love affair since 1925

1898 – Fred Kolb arrived in US
At age 25, Fred Kolb begins his lifelong love affair with cheesemaking when he emigrates to the US for the promise of a job at the Muscatine French Cheese Company.
1925  – The launch of Lena Cheese dairy
After moving his family to the quaint rural town of Lena, Illinois, Fred Kolb launches
Lena Cheese Company with an army of dairy farmers.
1929 – Frieda Kolb and Karl Renter's wedding
Fred's daughter, Freida Kolb, marries family friend, Karl Renter, and they develop new
ideas about cheesemaking after visiting relatives in his home country of Germany.
Dorothy, the only child of Karl and Freida Renter is born.
1936 – The Kolbs incorporate Kolb-Lena Cheese Company
The Kolbs incorporate Kolb-Lena Cheese Company, and Dorothy and other children work
in the plant before and after school.
Fred Kolb passes away, and Karl and Freida give Kolb-Lena Cheese Company the steam
it needs to carry on.
1953 – Dorothy's graduation from Iowa State University
Dorothy Renter becomes the first female graduate from the Dairy Industry Department
of Iowa State University.
1954 – Dorothy and James Demeter union
Dorothy marries fellow classmate and Greek Fulbright scholar, James Demeter, and
they breathe new life into Kolb-Lena Cheese Company : creating their own Baby Swiss.
1970 – Kolb Lena joins with Modern Foods
After a period of mergers, Kolb-Lena joins with Modern Foods before being taken over
by Katy Industries who supports Dorothy's desire for a new, modern plant.
1983 – The launch of the new Kolb Lena plant
The Demeters announce the opening of the new Kolb-Lena plant on a 40-acre farm in Lena,
which is sold to the French Bongrain Division in 1987.
1984 – Grand champion of Illinois State Fair
Became grand champion of Baby swiss cheese.
2001 – James Demeter death
James Demeter passes away, and Kolb-Lena continues to operate under Bongrain USA,
becoming the largest user of goat milk in the country.
2017 – The renew of Kolb Lena with Dorothy's Cheese
They continue to play an important role in the economy with specialty cheeses
that continue the traditions started by the Kolb, Renter, and Demeter families.
When Yesterday Meets Tomorrow - It's all about the terroir
Today, you can see it in the delicate shape of our cheeses, inspired by freshly spring flowers in the Apple River Canyon, at the foot of Kolb-Lena.
You can sense it in the passion of Bob our cheesemaker who was a Dorothy apprentice, and is now working tirelessly to carry on Dorothy's never-ending elevation of creamy texture. Dorothy's own son and nephew also still work at the cheese plant, with many others.
And you can taste it in a pair of soft-ripened cheeses that deliver foremost on flavor.

Soft ripened cheeses made with the freshest milk
Dorothy's cheeses are Dorothy's Comeback Cow, Dorothy's Keep Dreaming, Dorothy's Diggin'Truffles and Dorothy's latest flavor: Holy Smoke. They are creamy soft ripened cow cheese, each carrying additional flavors, such as vegetable ash, truffles and smoky flavors. Their milk is locally sourced from farms around Lena and give their cheeses their earthy, flowery taste.
They care for their product during the cheesemaking process, and still do the dipping, coating, and wrapping processes by hand.
An Artisan's DNA Handmade Process, Delicious Outcome
Our Rbst-free milk comes from farms surrounding Lena. Our cheeses are made from proprietary cultures found in raw-milk cheeses, lending rich flavor profiles. Respecting the processes as they were done before and keeping hand manipulation in place where it matters: dipping, coating, and wrapping.

Discover our BestSeller : Comeback Cow
It's creamy with a kick. Mild yet complex. This rich and creamy cheese has a smooth, flower-shaped body and soft white mold exterior. A velvety milk taste is underlined by sweet and buttery flavors of mushrooms or truffles and almonds. Wild grasses and flowers flavored the milk, packing pungent flavor that keeps coming back—bite after bite.
Comeback Cow is a tasteful, artisanal cheese best savored as part of your favorite cheese board, although it does lend itself to sandwiches and quiches if you're after an oozy melt. Pair it with croissants, soft rolls, melons or grapes. It's always ready for a party, enjoyed with a Bourgogne, Cabernet, or Médoc wine. Silky in texture and nutty, its whipped-cream.

Awarded the Best Soft Ripened Cheese made in America during the 2019 US Championship cheese contest in Wisconsin!
Other awards include:
Bronze 2019 and 2018 – American Cheese Society, Soft Ripened Cheese Category

Silver 2019 & Bronze 2018 – World Dairy Contest Expo Championship Dairy Product Contest, Soft Ripened Cheese Category

2018 – SOFI Awards by Specialty Food Association, Best New Product
Why Comeback Cow ? The story behind our Cheese
Dorothy was known to work tirelessly or, as they say, until the cows came home, perfecting her soft-ripened cheeses. Comeback Cow is one of her most unusual cheese –– a true creation. Nestled in the shape of freshly sprung flowers—this bloomy rind cheese is tinged orange with age. It's made from cow's milk with rustic, fragrant notes in every bite.
"Behold, a tasteful cheese that surprises
A lovely blend crafted with sheer love
Flavor with a kick (that just keeps kicking)
And creaminess that will keep you coming back…Until the cows come home!"
Dorothy's cheeses, four similar, but different cheeses
Dorothy's cheeses may all be soft ripened cow cheeses, yet every single one is a unique, delicious experience.

Dorothy's Comeback Cow is a cheese with a rustic taste. It carries the flavor of rich milk, almonds, mushrooms, and truffles. It's their most acclaimed cheese and will fit on your cheeseboard and go with strong bodied wines.
Acclaimed award winning cheese with over 6 medals including BEST SOFT RIPENED CHEESE MADE IN AMERICA since 2019.
Dorothy's Keep Dreaming is tangier than its older brother, and gains robustness as it matures. Rubbed in vegetable ash, it'll ravish cheese lovers who are fond of luscious cheeses.
Dorothy's Diggin'Truffles is the earthiest of Dorothy's cheeses. It carries the delicious rustic taste of black truffles. It's perfect for cheese lovers who enjoy the deep taste of this ingredient.
Dorothy's Holy Smoke is also a soft cheese which is infused with smoky flavors.
If you don't know which one to choose, or want them all, discover Dorothy's Cheese Bundle, perfect for family gatherings and restaurants.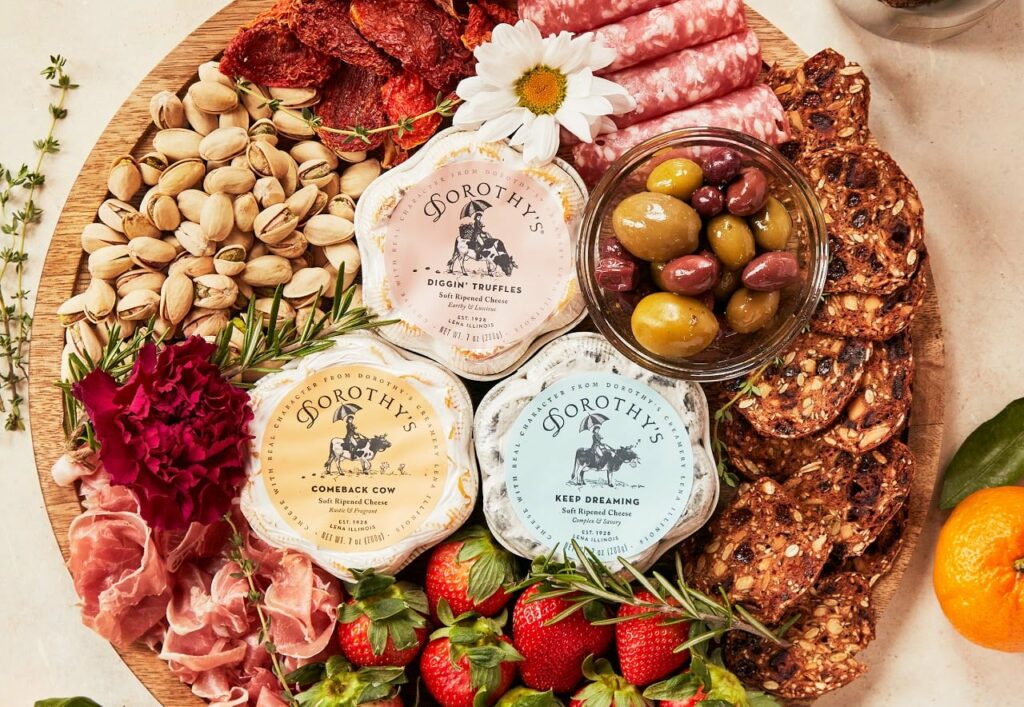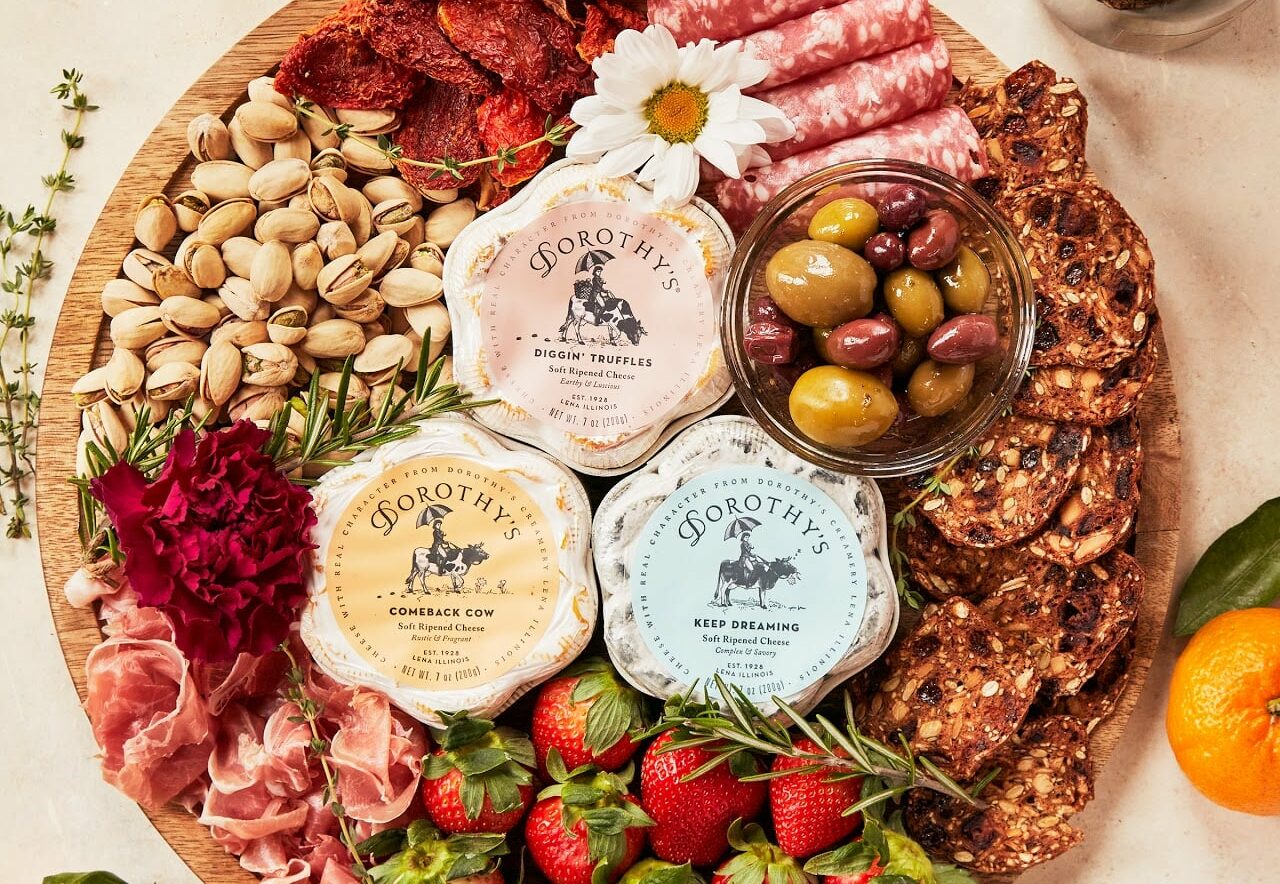 Chef Greg's cooking tips
Discover Chef Greg's recipes, cheeseboards and tips for cooking with Dorothy's cheese here: